Pizza Delivery
Bondi Beach
If you're looking for the best, real Italian pizza delivery to Bondi Beach; you've come to the right place. 
From our thin-crust pizza, to Nonna-style pasta, seasonal salads and mouth-watering desserts – we've got something to suit your every craving. We have been serving up the best gourmet pizza in Bondi and the Eastern Suburbs since 2012. 
Our team of expert chefs pride themselves on creating the the very best, authentic Italian dishes using recipes that have been in our family for generations, From our secret dough recipe to the daily-made pasta sauces, we know you'll fall in love with every bite.
Vegan? Vegetarian? Follow a gluten free diet?  We have a great range of dishes ready for your tastebuds! We also have a kids menu so the little ones don't go hungry either.
All orders over $40 will receive free delivery and if you order online from the same Made in Italy restaurant, you'll get your 11th order free. Buon Appetito!

Our rose bay Restaurant delivers to Bondi Beach and these suburbs
Double Bay, Vaucluse, Bellevue Hill, Double Bay, Point Piper, Bondi, Rose Bay, North Bondi, Woollahra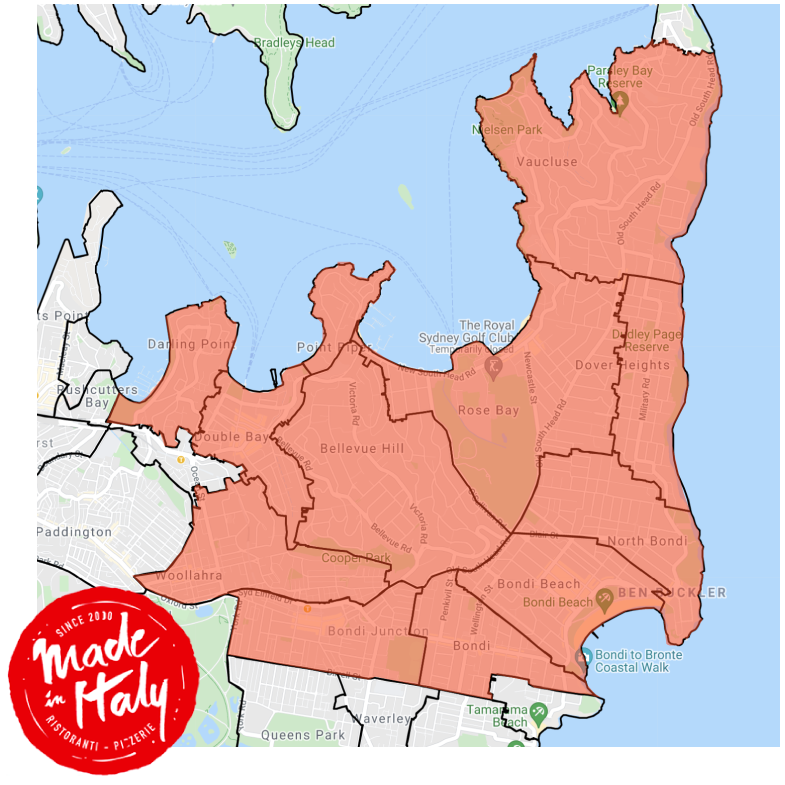 Frequently Asked Questions
Do you deliver to Bondi Beach?
Yes, if you're looking for the best, delicious, mouth-watering and convenient Italian Pizza and Pasta delivery in Bondi Beach, look no further than Made in Italy. Located close by in Rose Bay, we have been serving up the best gourmet Italian pizzas, hand-made pastas, fresh salads and delicious desserts made with love and passion across Sydney since 2000.
At Made in Italy, we pride ourselves on delivering freshly cooked, Italian cuisine made by our dedicated pizza chefs straight to your door so that you feel as if you're eating in Italy without ever taking a step outside…don't believe us? Order tonight. Free delivery on all orders (minimum spend is $25)
Do you have a rewards/ loyalty program?
At Made in Italy we promise to feed you like family with generous portion sizes, free delivery, our friendly Italian hospitality and best of all, our online loyalty program where you receive every 11th order for FREE. We understand the value of our loyal customers and as such we like to reward you for your loyalty to us. To start collecting loyalty tokens all you need to do is place your first order with us either online or via our app, register your details and every time you place an order you will receive a loyalty token and on your 11th order you can claim your reward.
What awards have you won?
We have won a number of different awards and accolades over the years from many of our locations; notably we have won awards for best pizza in the Inner West, best Italian in the Hills District and an award for the Best Tiramisu in Australia, however our highest and proudest achievement is passionately preparing up our Italian offerings for you and you enjoying them as much as we enjoyed preparing them.
Why are your pizzas so good?
Our pizzas are so good because we make our dough fresh daily by hand with the utmost care using the same secret dough recipe that we have been using for nearly 20 years, and with which we have served up thousands upon thousands of pizzas across all parts of Sydney during this time. Once our dough is prepared by hand daily our pizza chefs then use only the finest and freshest locally sourced ingredients to make the perfect pizza for you…Buon appetito